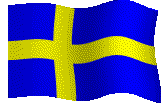 My first contact with the breed was when I was a child
in the 50's. Our neighbour was an eldery lady and she bred chihuahuas. I wanted a dog so mutch but my parents said no!
When our children was teenagers I took my chance and we bought our first chihuahua in 1986. It was a longcoated male. The next one came 1987, a small little female "Mimmi". At this stage we have became very fond of this breed and in the summer of 1988 we bought one more female CH.Tom Puss Dolores "Mia" and this female was the reason for our continue with show and breeding.
"Mia" became a proper little showdog and got the title Swedish Champion. We keep her in our lines to be sure of the good show- temperament. Mia also provided us with our first litter in 1990, and we got two smooth coated females. One of them "Tracy" became a real star and got the title International Champion with several group placement.
With such a great interest in the breed, and to show them, we shall continue to try to produce healthy, wholesome dogs with nice temperament and good constructions as long as we can.
Our dogs are a big part of our lives and are always with us.